Giving it up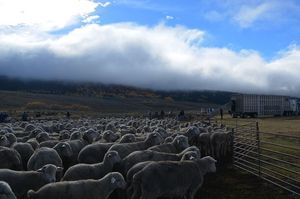 Strong sentenced for trophy buck poaching

Secretary of State and County Clerks confident in Wyoming's elections

Heavy snow causes SCSD #9 bus barn roof to collapse

14 inches of snow

Thomans Give Up Upper Green Grazing

Suicide prevention loss and tobacco resources available

Wattsmart Starter Kit available

WYDOT gears up for new specialty plate background

Wild Game processing near Pinedale and Big Piney

Local Contact Numbers

Sublette County Fair

Green River Valley Museum

Chuckwagon Days July 3rd & 4th in Big Piney

Local Lodging

Camping near Big Piney & Marbleton

Big Piney & Marbleton
---

Strong sentenced for trophy buck poaching (posted 10/26/16)
Joy Ufford, Pinedale Roundup, jufford@pinedaleroundup.com
PINEDALE, WYOMING – As his Oct. 25 trial approached, Big Piney teacher and coach Nathan Strong decided to change his "not guilty" plea for the wildlife violation of taking an antlered deer out of season, after attorneys reached an agreement.

Instead, the jury selection was replaced with Strong's change-of-plea and sentencing hearing in Sublette County Circuit Court before Judge Curt Haws. The two-hour hearing was overshadowed by the display of the nontypical trophy buck Strong pleaded guilty to shooting, frozen in a taxidermist's shoulder-mount pose.

Prosecuting attorney Carly Anderson and defense attorney Gaston Gosar had agreed on the sentence's recommended range, leaving it to the judge, who was required to impose at least $5,000 in fines and five years' loss of hunting privileges based on penalties for the misdemeanor to which Strong pleaded guilty.

Strong's supporters, including Nancy Espenscheid, Betty Fear and Colin Barney, who said Strong shot the trophy buck on his Big Piney ranch and that he told Strong he thought it (and others on his property) were mule deer/whitetail hybrids.

"I just don't understand the penalties that facing Nate and his family … for this alleged violation," Barney told the judge. "… I don't see why we have to crucify this man and his family."

After hearing from Strong, his friends and both attorneys, Judge Haws passed the sentence of 10 days in jail, seven years' suspension of Strong's hunting privileges, a $10,000 fine, $4,000 wildlife restitution to the state of Wyoming and $40 in court costs.

The judge suspended $5,000 of Strong's fine.

Although Judge Haws said he could have imposed 365 days in jail, he was suspending 355 days in favor of one year of unsupervised probation; if Strong completes that successfully, "then (the suspended portion) goes away."

The 10-day jail sentence will be cut in half if Strong performs 50 hours of community service by Jan. 1. Judge Haws allowed Strong to use a student program he is currently supervising as community service. Gosar asked if Strong's community service could wait until after basketball season.

"Let's get it done," the judge said. "So I know if we're looking at 10 days (in jail) or five."

He also agreed that his five-day jail term can be served after the upcoming Big Piney basketball season, giving him until April 30.

"He still has a couple weeks before basketball starts," Anderson commented. "I just think that seems like a long time."

Related Links:
Alleged mule deer poaching is denounced By Joy Ufford, Sublette Examiner, April 5, 2016
Big Piney man charged with poaching non-typical mule deer Pinedale Online, April 1, 2016
---

Secretary of State and County Clerks confident in Wyoming's elections (posted 10/20/16)
Reassuring voters Wyoming election process is not rigged
Wyoming Secretary of State and County Clerks Association of Wyoming media release
CHEYENNE, WYOMING, Oct. 20, 2016 – Today Secretary of State Ed Murray joined with the leadership of the County Clerks Association of Wyoming in reassuring Wyoming voters that the election process is not rigged.

"Recent comments that an election could be rigged gives Wyoming's 23 County Clerks and myself, as Chief Election Official, the opportunity to assure our citizens of the integrity of our voting process. Wyoming's County Clerks and I are able to state categorically that Wyoming's election process will not be 'rigged' or 'hacked'," said Secretary Murray.

With 19 days to go before General Election Day 2016, the Secretary of State's Office reminds voters that they can be confident of the accuracy and fairness of elections in Wyoming for reasons which include:
• No Wyoming voting system is ever connected to the internet and thus cannot be hacked;
• Each polling place reconciles the number of votes cast to guarantee that the number of people who checked into the polling place matches the number of ballots cast;
• Every voting system that is used in an election is tested publicly for ballot tabulation accuracy before being used in any election. Once tested, the ballot counter is immediately locked and sealed through Election Day;
• Each ballot can be verified by a paper audit trail that can be used to confirm the accuracy of every single vote while not associating any one ballot with a voter in order to maintain the secrecy of each person's vote;
• Wyoming's 23 County Clerks work with well trained and experienced citizen election judges and poll workers who manage and monitor each polling place to ensure that the voting environment is efficient and free of obstructions and distractions for the voters;
• Once votes are cast, each county convenes a bi-partisan canvassing board comprised of members selected from different political parties to join with the County Clerk to review the election tallies and certify election results;
• All voters must attest that they are citizens and eligible to vote. Wyoming's voter registration system interfaces with data from the Wyoming Departments of Transportation, Health, Corrections, and the Division of Criminal Investigation to prevent voter fraud such as votes cast by deceased persons. If voter fraud were to ever occur, those individuals would be prosecuted to the fullest extent of the law.

"The citizens of Wyoming will decide the winners and losers in this election – fair and square," said Carbon County Clerk Gwynn Bartlett, President of the County Clerk's Association of Wyoming. "Wyoming's voting process is protected from beginning to end. There are many safeguards that the Secretary of State's Office and County Clerks have put in place to maintain the integrity of each person's vote."

---

Heavy snow causes SCSD #9 bus barn roof to collapse (posted 10/17/16)
Heavy snow causes SCSD #9 bus barn roof to collapse
The heavy wet snow that fell Sunday night caused the Sublette County School District #9 bus barn roof in Big Piney to collapse. The school district was not able to send out the buses to LaBarge. They asked parents to get their children to school some other way. If unable to do so, children were allowed an excused absence. All other buses and suburbans were able to run, but some were running late.

According to Sublette County Sheriff KC Lehr, the bus barn roof collapse was the only significant damage reported from the snow storm. There were also some vehicles that slid off the road.

Related Links:
14 inches of snow in Pinedale Oct. 17, 2016, Pinedale Online!
---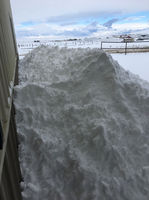 Sand Draw snow. Photo by Renee' Smythe.

14 inches of snow (posted 10/17/16)
Big Piney and Pinedale woke up to 14 inches snow on the ground Monday morning, October 17th. A Winter Storm Warning for heavy snow was in effect until 6PM Monday evening. Windy conditions causing reduced visibility in places with blowing snow. Those outside should be prepared for wet snow and cold temperatures. Let others know your itinerary. Roads are snow packed and hazardous, making travel difficult. Allow extra time to reach your destination. Keep warm clothes, food, water, and a flashlight in your vehicle if traveling. Daytime highs around Pinedale in the 40s. Nighttime lows in the 20s. Call 511 in Wyoming for road reports. Click on this link for more weather and road condition links, and area webcam views.

Public Information Statement
National Weather Service Riverton, Wyoming
0759 AM MDT MON OCT 17 2016

SNOWFALL TOTALS FOR SUNDAY AND SUNDAY NIGHT
October 16 and 17, 2016

A strong Pacific storm system brought heavy snow to parts of western Wyoming especially Sunday night. The heaviest snowfall occurred in the Pinedale area where 12 to 15 inches of snow accumulated.

Note: SNOTELS (Snow Telemetry) are remote sensing sites in high mountain watersheds. Snowfall data from SNOTELS are estimated based on snow water equivalent.

Location Snowfall

Fremont County
Hobbs Park SNOTEL, 9 inches
Townsend Creek SNOTEL, 7 inches
Deer Park SNOTEL, 7 inches
Cold Springs SNOTEL, 6 inches
St. Lawrence Alt SNOTEL, 6 inches
South Pass SNOTEL, 4 inches
Little Warm SNOTEL, 3 inches
Brooks Lake, 2 inches

Lincoln County
Spring Creek Divide SNOTEL, 16 inches
Commissary Ridge, 15 inches
Blind Bull Summit, 15 inches
Indian Creek SNOTEL, 13 inches
Cottonwood Creek SNOTEL, 13 inches
Salt River Summit SNOTEL, 12 inches
Kelley Ranger Station SNOTEL, 11 inches
Willow Creek SNOTEL, 10 inches
Blind Bull Summit SNOTEL, 8 inches
Hams Fork SNOTEL, 7 inches
5 NNE Thayne, 7 inches
Box Y Ranch, 7 inches
2 SE Thayne, 3.5 inches

Sublette County
15 WNW Daniel, 15 inches
Pinedale, 14.3 inches
14 NW Pinedale, 14 inches
Snider Basin SNOTEL, 13 inches
Pocket Creek. SNOTEL, 13 inches
Pinedale, 12 inches
Elkhart Park G.S. SNOTEL, 10 inches
Triple Peak SNOTEL, 10 inches
Big Sandy Opening SNOTEL, 10 inches
New Fork Lake SNOTEL, 8 inches
East Rim Divide SNOTEL, 8 inches
Larsen Creek SNOTEL, 7 inches
Loomis Park SNOTEL, 7 inches
Gunsite Pass SNOTEL, 6 inches
Kendall Ranger Station SNOTEL, 6 inches

Teton County
Phillips Bench SNOTEL, 7 inches
Jackson Hole - Rendezvous Bowl, 7 inches
Granite Creek SNOTEL, 6 inches
Grand Targhee - Chief Joseph, 6 inches
Jackson Hole - Mid Mountain, 5 inches
Snow King, 5 inches
Jackson Hole - Raymer, 5 inches
Gros Ventre Summit SNOTEL, 4 inches
Jackson Hole - Base, 4 inches
Base Camp SNOTEL, 3 inches
Togwotee Pass SNOTEL, 3 inches
5 NW Jackson, 2.5 inches
Togwotee Mountain Lodge, 2 inches
Grassy Lake Snotel, 2 inches
Snake River Stn SNOTEL, 1 inch

Click on this link for more pictures of snow Monday morning: 14 inches of snow in Pinedale

Related Links:
Pinedale area webcams, links to weather and road reports
www.wyoroad.info WYDOT road reports, travel conditions – also call 5-1-1 or toll-free nationwide: 1-888-996-7623
Pinedale area weather National Weather Service
Snowfall information NRCS - National Resources Conservation Service
Precip Maps CoCoRaHS – Community Collaboration Rain, Hail, Snow Network
Weather Underground (Big Piney/Marbleton zip code is 83113, Bondurant 82922)

---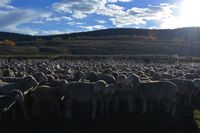 Photo by Cat Urbigkit

Thomans Give Up Upper Green Grazing (posted 10/15/16)
Cat Urbigkit
In late September, W & M Thoman Ranches herded their domestic sheep flocks down from the mountains of the Upper Green, where they had grazed since July, just as they had for every summer and fall for decades. The flocks were moved into a set of portable pens located on a flat next to the Green River, where they would be sorted for fall shipping, with market lambs sent up the chute for the lamb buyer, replacement ewe lambs sorted off for shipping to lower elevation grazing, and the core adult ewe flocks headed back to the home ranch located near the Fontenelle Reservoir.

But this time was different, because the Thoman family knew their sheep would never come back to the Upper Green for grazing.

The family had agreed to an allotment buyout deal that would put an end to domestic sheep grazing in the area. Long pressured by environmental groups and federal officials, the Thomans at last conceded, and on Tuesday, they waived their Elk Ridge Allotment Complex grazing permit back to the Bridger-Teton National Forest without preference to another livestock producer. The deal involved a buyout (of an undisclosed sum) of the allotments, and was orchestrated by the Wyoming Wild Sheep Foundation. Home to domestic sheep for more than 100 years, the Thoman's fine-wooled Rambouillets had grazed this range for 40 years.

Citing the potential threat of interactions between domestic sheep and wild sheep, and the history of wolf and grizzly bear depredations, the Bridger-Teton National Forest has committed to not allowing the allotments to be restocked with domestic sheep. The agency has indicated it will consider allowing the currently permitted cattle grazing in the Upper Green to spread into a portion of the Thoman allotments "in order to better address ongoing predation issues," but not until further environmental review is conducted some years in the future.

The loss of the Thoman allotments – four allotments that grazed up to a total of 3,900 sheep from July through September– is the latest in a series of domestic sheep allotment closures by federal forest officials throughout the West.

The decision to give up the allotments was a difficult one, and one that members of the Thoman family voiced displeasure. Family matriarch Mickey Thoman and daughter Mary said they believe that the situation had become such that it was best to accept the buyout offer and put their days in the Upper Green behind them.

The Thomans aren't sure where they will be taking their sheep for next year's summer and fall grazing season. Federal officials have been unable to identify current vacant grazing allotments or grass banks where their flocks would be allowed, and the Thomans are hoping that some of their current cattle permits can be converted back to sheep, but federal land managers are balking, citing concerns for sage grouse and the need to conduct environmental reviews.

Many members of the extended Thoman family, including Laurie Thoman, Kristy Wardell, and Dick Thoman were on hand to bring the family's flocks out of the Upper Green for the last time.

Click on this link for more pictures: Thomans Give Up Upper Green Grazing (19 photos)

---

Suicide prevention loss and tobacco resources available (posted 10/16/16)
Organizations working together to strengthen prevention efforts around alcohol, tobacco, drugs and suicide
Prevention Management Organization of Wyoming
ROCK SPRINGS, WYOMING - The Muley Fanatic Foundation, along with the Prevention Management Organization of Wyoming, (PMO) is offering members access to resources and tools to help curb suicide losses across the state. The Muley Fanatic Foundation will also offer active members free access to Chantix and other tobacco quit tools to conserve the health of their sportsmen and women.

"For the Prevention Management Organization of Wyoming, developing key partnerships offer opportunities to help break the stigma surrounding mental health and tobacco use here in Wyoming. We want the residents of Wyoming and specifically Rock Springs to know we are 'in this together' and working to make this state a better and healthier place to live and play," said Cassandra Crumpton, Sweetwater County community prevention specialist with the PMO.

Joshua Coursey, co-founder and president of the Muley Fanatic Foundation, said, "This partnership gives us a chance to give back to our active members. We take conservation of the land and animals very seriously, but we also take the conservation of our member's health seriously. Both Joey and I gave up chewing tobacco six years ago and know how hard it can be and want to give our members the help and support to quit the habit for themselves and for their families."

Currently, partnership plans include Muley Fanatic Foundation's social media presence of more than 23,000 followers on Facebook and mailing list serve of over 37,000 sportsmen and women to provide prevention-based messaging and resources. A special effort to help reduce the amount of distracted driving, specifically texting and driving, of sportsmen and women throughout the state is included.

The Muley Fanatic Foundation (MFF), a 501 C (3) non-profit conservation organization, was established in 2012 by Joshua Coursey and Joey Faigl. Headquartered in Green River, Wyoming, MFF aims to ensure the conservation of mule deer and their habitat and to provide such supporting services to further the sport of hunting and sound wildlife management.

The PMO is a statewide organization is dedicated to strengthening the prevention efforts around alcohol, tobacco, other drugs, and suicide.

For more information about this partnership please visit www.muleyfanatic.org or www.pmowyo.org.

---

Wattsmart Starter Kit available (posted 10/15/16)
Low-cost kit includes LED bulbs and other simple solutions that save energy and money
Rocky Mountain Power
Rambler, condo, apartment, farmhouse – no matter what you call home, Rocky Mountain Power's wattsmart® Starter Kit can help you save energy and lower your monthly energy bills. For Utah and Wyoming residential customers, it's a great first step to saving energy and money. Ordering the low-cost kit is easy, and for $4.99, Rocky Mountain Power customers receive a big discount on easy energy upgrades that deliver savings each month.

The wattsmart Starter Kit includes four ENERGY STAR® rated LED light bulbs. By switching to LEDs, residents can lower their lighting costs by as much as 75 percent. Plus, the bulbs last as long as 25 years, which means fewer trips to the store in search of replacements.

Homes with electric water heating also will receive high-performance showerheads and faucet aerators for additional savings. These WaterSense® certified products save the average family 3,600 gallons of water a year and help lower water-heating costs.

The wattsmart Starter Kit is an excellent entry point to home energy savings, showing that simple changes can truly make a difference. For more information, and to order your low-cost kit, visit www.wattsmart.com/starter or call 1-877-883-1753.

---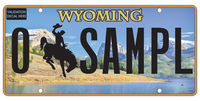 2017 Wyoming prestige plate design

WYDOT gears up for new specialty plate background (posted 9/24/16)
2017 plate will feature Green River Lakes and Squaretop Mountain
Wyoming Department of Transportation
The Wyoming Department of Transportation is temporarily putting a hold on new specialty and prestige plate applications from Sept. 24 through Oct. 1 to prepare for plates that will feature a new background.

Starting in 2017, the new plate design featuring the Lower Green River Lake and Squaretop Mountain will be on the state's 12 specialty plates, the prestige plates and the standard plates motorists receive at the county when registering their vehicles.

WYDOT will stop accepting applications for the specialty and prestige plates featuring the Tetons on Sept. 24. WYDOT will then begin processing and accepting all new applications it has for specialty and prestige plates on Oct. 1.

Per Wyoming law, license plate designs change every eight years with the new design needing to be readily distinguishable from the previous design. All designs are required to have the bucking horse logo.

"The specialty plate fee is paid each time the plate is redesigned," said Debbie Lopez, manager of Motor Vehicle Services, adding that the fee is in addition to the annual vehicle fee paid at the county.

For instance, if someone applies for a new specialty or prestige plate that has the Tetons before Sept. 24, they will need to pay the fee again in 2017 to get the new plate design.

Drivers who want a specialty plate will complete the application at WYDOT and will pay the fee for that particular specialty plate. The Disabled Veteran plate is the only one not affected. Veterans who request a Disabled Veteran plate can continue to do so because this plate is free to the requester, but they must be a disabled veteran.

"We also contact our specialty plate customers within three to six months of their plate's expiration to remind them to reorder their specialty plate," said Shannon DeGrazio, of WYDOT's Motor Vehicle Services program. "All current specialty plate customers who reorder in 2017 will have the option of keeping their existing plate combinations."

Although motorists will be able to start applying for specialty plates in October, they won't be able to put the new plate on until their current registration expires unless they pay in advance at the county for the extra months of registration.

Besides a new look, the prestige plates will now have a maximum of five letters or combination of five letters, numbers and spaces. In previous years, the maximum was four.

To view the guidelines for the prestige plates or to learn more about the specialty plates, visit WYDOT's website at www.dot.state.wy.us.

---

Wild Game processing near Pinedale and Big Piney (posted 8/31/16)
Editor's Note, updated Sept. 1, 2016: We've had several hunters ask us where can they get their wild game processed in Sublette County? Here are the names of businesses we are aware of that provide butchering service. Please note that the phone number we posted earlier for WR Processing is incorrect and we do not have current contact information for that company.

Nelson Butchering – Wild Game Processing Located at the Noble Flying U Ranch, 100 Noble Road in Cora, Wyoming. Take the Cora Post Office Road off of Hwy 352 and follow it to the end. 307-231-1596.

Hog Island Meats, Jackson, WY, 307-413-3322, http://www.hogislandmeats.com/contact-us/

Jackson Hole Ice & Game, 307-732-0496

Dana Cold Storage, Thayne, WY, 307-883-2397

The Butcher Shop, Rock Springs, WY, 307-362-2755

Henderson Meat Processing, Green River, WY, 307-875-7611, http://www.hendersonmeat.com


---

Local Contact Numbers
Big Piney Town Hall
PO Box 70
Big Piney, WY 83113
307-276-3554
www.bigpiney.us

Marbleton Town Hall
10700 US 189
Marbleton, WY 83113
307-276-3815

Flicks & Pins Entertainment Center
Open Sunday through Thursday from 3:00PM to 10:00PM
Friday & Saturday 3:00PM to Midnight
Phone 307-276-4062 for movie times
www.flicksnpins.com/

Big Piney Ranger District
Bridger-Teton National Forest
P.O. Box 218
Big Piney, WY, 83113
307-276-3375 or 276-5800/5200
Fax: 307-739-5235/276-5835
www.fs.fed.us/btnf/

Sublette County Courthouse
21 S Tyler, Pinedale, WY 82941
Big Piney Direct Line 307-276-3827
Marbleton Annex 307-276-3735
Pinedale Information: 307-367-7722

Sublette County Sheriff's Department
PO Box 701
Pinedale, WY 82941
Marbleton: 307-276-5448
Pinedale: 307-367-4378

Big Piney Post Office
401 Budd Avenue
307-276-3772
1-800-275-8777

Sublette County School District #9
Superintendent's Office: 307-276-3322
Big Piney High School: 307-276-3324
Big Piney Middle School: 307-276-3315
Big Piney Elementary School: 307-276-3313
Big Piney Pool: 307-276-9966
www.sublette9.org


Southwest Sublette County Pioneers Senior Citizen Center
429 E First St, Marbleton, WY
P.O. Box 33
Big Piney, WY 83113
Phone: (307) 276-3249
Fax (307) 276-3249
E-mail: southwest001@centurytel.net
Open 8:00am to 4:00pm
Lunch at 12:00 noon Tue. Wed. Thurs. (starting July 1, 2008)
Joan Mitchell / Director
www.bpmseniorhousing.com
Facebook page

Green River Valley Cowbelles
www.greenrivervalleycowbelles.com

More Area Information:
Sublette County Chamber of Commerce (Pinedale)
307-367-2242 or 1-888-285-7282
www.sublettechamber.com

BigPiney.com (Pinedale Online!)
307-360-7689 (days, evenings, weekends, after hours calls ok)
---

Sublette County Fair
July - August
The Sublette County Fair is packed with entertainment and fun. There is something for everyone to enjoy.

One of the many highlights is the Lil' Buckaroo Rodeo. The audience holds their breath as these young cowboys and cowgirls try their hand at bronc riding. The evening ends with the youngest contestants competing in the stick horse barrel race. The greased pig contest is another favorite, the crowd roars with laughter watching the wave a kids overtaking the slimy critters.

Spend some time viewing the livestock shows and watch the participants as they receive their awards for a job well done. Enjoy the wonderful food which some how tastes more delicious in the atmosphere of the fair festivities. Finish the night off at the rodeos with many local cowboys and cowgirls participating in the fast paced events. Visit the Sublette County Fair web page to enjoy pictures from previous years fairs.

For more information visit - www.sublettecountyfair.com.
---

Green River Valley Museum
Open June through October
The Green River Valley Museum is located on the main street in Big Piney. Artifacts from prehistoric Indians, pioneers, homesteaders and other various groups that have settled this area are on display at the museum. Many of the items displayed at the museum were donated by local families. 'Hard Hats and Stetsons' is the annual fundraiser for the museum. The name of the fundraiser itself reflects how important the cattle and oil industry have been for this valley.

The museum is open Tuesday through Saturday from 12:00 Noon until 4:00 PM from June into October (opening date varies, so watch for announcements on the specific date each year). Admission is by donation. Special tours can be arranged by calling Museum Director Jeannie Lockwood at 307-276-3637.

For more information visit www.grvm.com
---

Chuckwagon Days July 3rd & 4th in Big Piney
Chuckwagon Days takes place each year over the 4th of July holiday in Big Piney. There is a Lil' Buckaroo Rodeo, a parade down Big Piney's main street followed by a free BBQ at the Sublette County Fairgrounds, an afternoon rodeo, street dance and late evening fireworks (on the 4th).

The "Chuckwagon Chug" a 5k and 10k Walk/Run, will be held on July 4th, before the Big Piney Parade. Start/Finish is at the Big Piney High School parking lot. There will be prizes for top finishers and gift bags for all contestants.

More information about Chuckwagon Days can be found here: www.ChuckwagonDays.com
---

Local Lodging
If you are looking for local lodging and places to stay in the Big Piney-Marbleton areas, be sure to check the Sublette County Chamber of Commerce website under lodging. Big Piney and Marbleton are located about 35 miles south of Pinedale, so look under motels, RV parks and campgrounds specific to our towns.
Lodging Links:
Bed & Breakfasts, Cabins, Motels, Guest Ranches, RV
www.sublettechamber.com
---

Camping near Big Piney & Marbleton
The closest campgrounds are located on the Big Piney Ranger District of the Bridger-Teton National Forest. They offer two developed campgrounds and many opportunities for dispersed camping in the Wyoming Range west of Big Piney and Marbleton. The forest boundary is approximately 20 miles from local businesses and town services. For detailed information, contact the district office at 307-276-3375.

Sacajewea Campground Located 25 miles west of Big Piney. This campground has 26 sites, basic amenities, and is open June 15th through September 30th. The camping fee is $7.00 per site, per night. This campground has running water, an on-site host, and is well maintained. No electricity, showers or phone.

Middle Piney Lake Campground This is a primitive campground located further down the road from the Sacajewea Campground. This camp area is next to Middle Piney Lake and has 5 tent sites, tables and pit toilets. NO running water, electricity, showers or phone service. NO fees. Because of the narrow winding road to this campground, it is not recommended to take trailers to the lake site.

Forest Service Cabins Big Piney Ranger District offers two Forest Service work centers for rent for overnight stays. One is located at Snider Basin and the other in the Hoback. Contact the Big Piney office for more information on availability and fees.

NOTICE ABOUT BEARS: These campgrounds are in bear country. Both black bears and grizzly bears inhabit the Wyoming mountain range. Visitors are strongly encouraged to practice clean camping techniques and store attractants in a manner that makes them unavailable to bears. Bear-proof canisters are available for rent from the Big Piney Ranger District office. Bear-proof dumpsters are located at various locations at campgrounds and recreation areas on National Forest land.

Dispersed Camping:
There are practically unlimited opportunities for dispersed camping on the Bridger-Teton National Forest near Big Piney/Marbleton. The forest boundary is approximately 20 miles from town. Stay limit is 16 days in any one location. Campers should either bring their own water or boil water obtained from sources in the outdoors to avoid getting sick from organisms that live in lakes and streams. Do not drink untreated surface water. Dispersed camping is available along the Piney, Cottonwood and LaBarge Creek drainages.

Camping on BLM land
There are no developed campgrounds on BLM land near Big Piney or Marbleton, however there are many places for dispersed camping for those who are prepared to bring their own drinking water and camp without developed facilities. For more information, contact the Pinedale Field Office of the Bureau of Land Management in Pinedale.

Private RV Campgrounds
There are several private businesses that offer RV campsites for overnight and extended stays. Most have power, water and sewer hookups. Click here to our sister website, Pinedale Online, for info about private RV campgrounds and services.

Related Links:
Bridger-Teton National Forest/Big Piney Ranger District
Sublette County Chamber of Commerce
---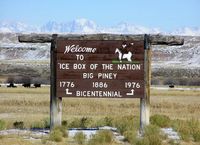 Big Piney, Wyoming, "Ice Box of the Nation"

Big Piney & Marbleton
Ice Box of the Nation
Big Piney is the oldest settlement in Sublette County, Wyoming and was named by Dan B. Budd for the Piney Creeks. In 1879, Daniel B. Budd and his partner Hugh McKay brought a thousand head of cattle from Nevada hoping to ship them at Point of Rocks, but winter caught up to them here in the Green River Valley. The following year Dan Budd moved his family here and that is how the settlement of this town began. Big Piney was called "Ice Box of the Nation" when it was officially made a weather station in 1930. Big Piney had the coldest year round average temperature of any place nationally.

It's a curiosity, considering most Wyoming towns are few and far between, that Big Piney and Marbleton would only be a mile apart. They have separate post offices and town governments. Big Piney was incorporated on July 5, 1913. In the early days there was a lot of drainage problems with the site on which Big Piney was built. So Charles Budd, eldest son to Dan B Budd had hope to build the town up on the bench to alleviate this problem. Charles did establish Marbleton on the bench, in late 1913, but it never replaced Big Piney. Any attempts to combine the two towns has been unsuccessful. The truth is people here kinda' like it that way. Both towns cooperate with each other, they have a common school. The citizens of these two towns take a lot of pride in the growth of their little metropolis over the past years and think the founders would be proud too. Both communities have thrived in the last several decades because of the oil and gas industry. In the 1980's Marbleton recieved it's own post office, because of the number of people moving to the area.
---
To contribute information to this community website,
please e-mail: info@bigpiney.com or info@marbleton.com.
Phone: 307-276-5699 • Fax: 307-276-5414

November 2: Public Meeting in Marbleton to discuss Lake Mountain Wilderness Study Area Members of the Wyoming Public Lands Initiative Sublette County Advisory Committee took a field trip to visit this area on October 14th. The Advisory Committee will hold their regularly scheduled meeting at the Marbleton Town Hall from 1:00 – 5:00 PM today. After the regularly scheduled meeting they will hold a Town Hall meeting from 5:30 – 7:00PM to discuss their field trip to the Lake Mountain Wilderness Study Area. Members of the public and interested stakeholders are invited to attend both the regularly scheduled meeting of the Advisory Committee and Town Hall meeting. For more information about the October 14 field trip contact Bart Myers at (307) 367-4375 or email bart.myers@sublettewyo.com.

November 9: Local Emergency Planning Committee (LEPC) regular meeting 8:30AM, Sublette County Unified Fire Training Facility in Marbleton.

Green River Valley Museum


Sublette County Fair


Sublette.com


Sublette Co Chamber of Commerce


Town of Big Piney


Big Piney Gun Club

Site Sponsors: